Hammer and Skype partnership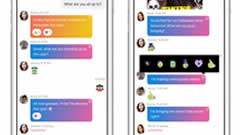 On Monday 16th October, Skype released Hammer branded emoticons and stickers, enabling users to choose from a variety of Hammer's spooky, familiar faces including Dracula and the Mummy, to spice up their messaging.
These exclusive Hammer Halloween-themed emoticons, stickers, and reactions bring the spirit of Halloween to your Skype chats and Highlights.
Simon Oakes, CEO of Hammer said, "This is an exciting partnership for Hammer, taking us into a different medium and introducing the Hammer brand to a new generation of horror fans. We love how our classic characters and iconography translates to this platform, and look forward to more collaborations with Skype in the future."
Hammer is working across a number of mediums at present.
A new movie
The Lodge
is beginning principal filming in the new year helmed by
acclaimed directors Veronika Franz and Severin Fiala.
A radio play of a "lost" Hammer film script - The Unquenchable Thirst of Dracula - will be premiering on BBC Radio 4 on 28th October, produced by Sherlock co-creator, Mark Gatiss.
And Hammer's first foray into immersive theatre, Hammer House of Horror Live: The Soulless Ones, has is showing at Hoxton Hall in London's East End until the end of October
---